The Fanvil X6U is an enterprise-level, three screen IP Phone. Featuring three colour displays, newly added line keys with LED light and built-in Bluetooth, Fanvil X6U provides direct access to instructions, offering greater flexibility and productivity to exceed the different demands of businesses. Harman speaker and wideband codec of G.722 and Opus in this device deliver you an immersive HD audio experience in both high band and low band. With all the necessary VoIP features and other extended features like EHS headset and WiFi dongle, the X6U provides a high-quality and convenient experience for users at an affordable price.
Fanvil X6U Key Features
20 SIP lines, 3-way conference, SIP hotspot
5 Line keys on the main display
1×4.3″ main colour display, 2×2.4″ side colour displays for DSS keys
HD audio on speakerphone and handset
Built-in Bluetooth for connecting Bluetooth headset
Support WiFi connectivity (Via WiFi dongle)
Support EHS wireless headset
Up to 60 DSS keys (12 two-coloured physical keys)
Dual Gigabit ports, integrated PoE
Stand with 2 adjustable angles of 45 and 50 degrees
Compatible with major platforms: Asterisk, Broadsoft, 3CX, Metaswitch, Elastix, Avaya etc.
High-definition Audio High-efficiency Work
Given to superb Harman speaker and wideband codec G.722 and Opus, HD audio in Fanvil X6U enables you to enjoy a crystal-clear and high-efficient group communication.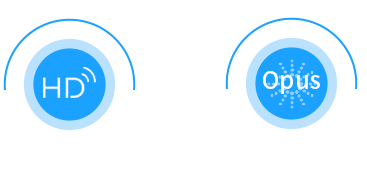 Elegant Outlook Easy Operation
Housing a more intuitive design with a 4.3-inch 480×272 color LCD, two 2.4-inch color side LCDs and 5 line keys with LED light, Fanvil X6U allows a more user-friendly feature customization.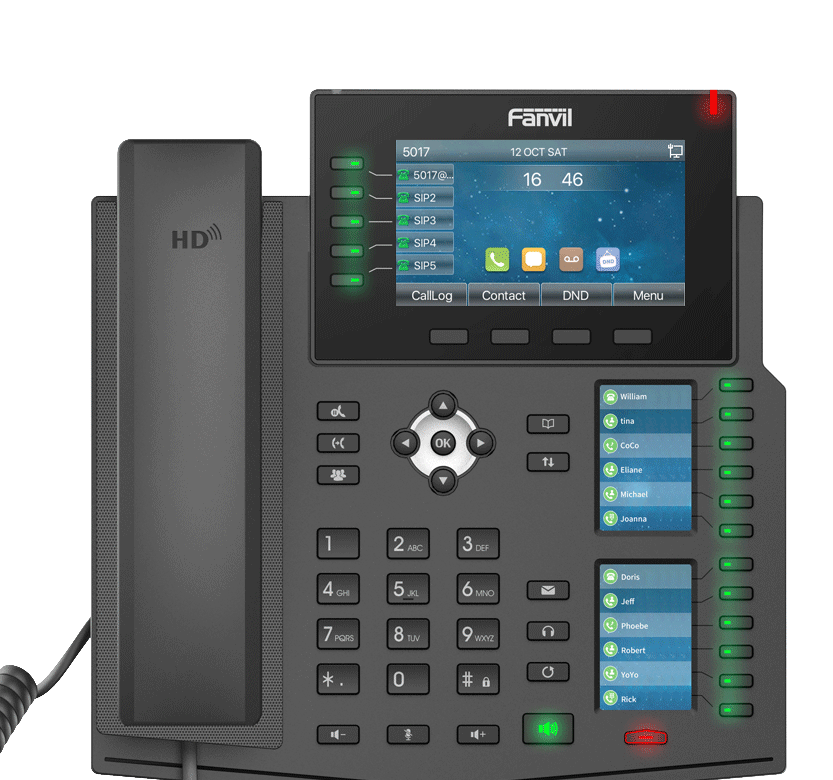 Greater Interoperability and Collaboration
| | |
| --- | --- |
| Matched with accessories, like EHS headset via EHS Cable, WiFi via WiFi dongle and built-in Bluetooth, Fanvil X6U is designed to encourage your flexibility on work. | |
Fanvil X6U Enterprise High-End IP Phone
Brand: Fanvil
Product Code: Fanvil X6U
Availability: In Stock
SHOP ONLINE FOR BEST PRICE ON ELECTRONIC HARDWARE DEVICES & ACCESSORIES FOR NETWORK, TELECOM AND SECURITY SOLUTIONS & INSTALLATIONS IN NIGERIA.
Looking for where to procure CCTV security system & cameras, WiFi Router, Switch, PBX, IP Phones & Networking Products & Accessories at best price in Nigeria?
We stock and also procure high quality networking, security and telecom products from top brands including Panasonic, Grandstream, Hikvision, Cisco, Mikrotik, Ubiquiti, TPlink, Dlink, Linksys, Avaya, Polycom and many more. We are dealers and marketers of Cisco Routers, MikroTik Routerboard RB951Ui-2HnD, Ethernet Routers, Panasonic KX-TES824, KX-TD100, KX-NS500 PBX, KX-T7730, console, digital and Panasonic proprietary telephones, Ubiquiti Unifi UAP-LR, CPE, Antenna, & Gigabit Switches, Hikvision security camera, Hikvision NVR, DVR, Hikviison bullet, dome and speed dome PTZ security cameras, WiFi Adapters, WiFi extenders, Access Control, Time & Attendance Machines, Cat6 pure copper network cable, Outdoor Radio, PBX, IP Phones, Security Cameras, CCTV kits, CCTV training in Lagos, DVR, NVR, IP Cameras shop and online sales in Nigeria, Equipment Rack & Cabinet, Installation tools, Fiber Optic cable and splicing installation accessories.

We offer list of top QUALITY PRODUCTS at AFFORDABLE PRICES IN NIGERIA
Order products online or buy in our store in Surulere, Lagos and save money in great discounts. We stock top quality products in Nigeria - MikoTik Rb951Ui-2HnD, Panasonic KX-TEM824, KX-TS500MX, Unifi UAP-LR, Ubiquiti Airmax, Hikvision IP camera, NVR, DVR, Cisco Router 1841 ISR

Warranty Products, Nationwide Delivery.
Our products are of the highest standard and quality and come with warranty by manufacturers. Buy our products and we would deliver to your office or shipping address anywhere in Nigeria.